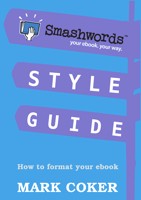 Have you ever wanted to publish your writing? Through the pages of this book you will  find all that you need to format and publish a quality eBook. Best of all publishing is free.
From the Smashwords website: 
The Smashwords Style Guide has helped thousands of authors produce and publish high-quality ebooks. This free guide offers simple step-by-step instructions to create, format and publish an ebook. It's required reading for any author who wants to distribute their book via Smashwords to major ebook retailers such as Apple iBooks, Barnes & Noble, Scribd, Oyster & Kobo. Revised September 24, 2014.
About Mark Coker:
I'm Mark, founder of Smashwords. Our mission is simple: we want to create the world's single best ebook publishing and distribution platform for our indie authors, publishers, literary agents and retailers.